Hanging Wall Dividers Economic Version
General Details
Hanging Wall Dividers Economic Version
As the basic and economic version, pattern 65 hanging wall dividers are a ceiling mounted soundproof divider system, extending as a complete unit. Hanging wall divider is easy to setup, providing efficient and convenient separation. The hanging acoustic partition is widely used in hotel, tea house, exhibition center, function room, college, club, restaurant, art center, university, sports center, government office, the court, bowling center, school, golf club, and so on.
Specification of Pattern 65 Hanging Wall Dividers
Thickness: 65mm
Width: 700-1200mm
Height: 1500-4200mm
Suspension: Top hang with single or double carrier
Acoustic performance: up to STC 30dB
The acoustic structure of hanging wall partitions includes multi-layer board at the top and bottom of the partition and the acoustic wool inside. The acoustic performance is up to 30 STC, and the fabric acoustic panel and perforated panel can be used to reduce echo. The vinyl at all edges help to prolong life time and seal the sound.
By moving the hanging partition wall into place or collecting them in a corner, you can divide a big room into smaller ones easily. In addition to the standard built-in mechanism, a variety of custom options are available, including MDF finish, melamine faced MDF finish, fabric finish etc.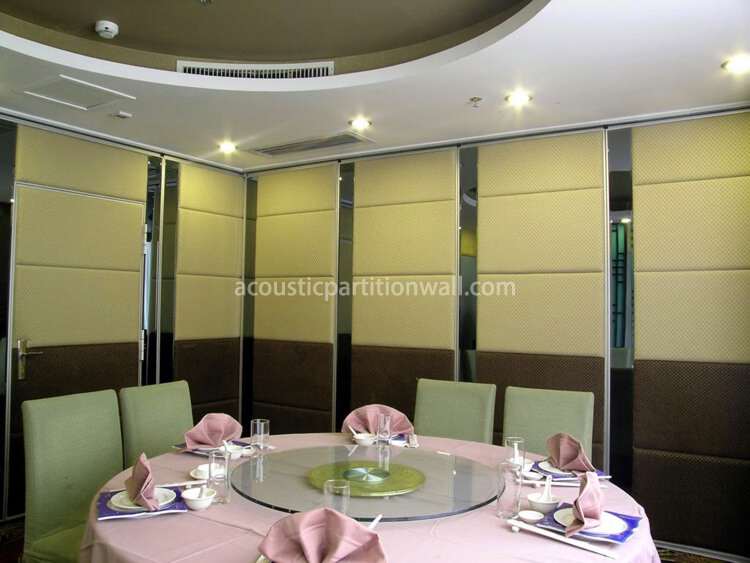 Advantages of Hanging Wall Dividers
Premium aesthetics
Unitized steel structure
Advanced field acoustics
Quick and easy setup
Smooth operation
One-piece panels can be used on partitions up to 7m high
Operable top and bottom sealing systems
Customize the surface colors and materials
Suitable for school gyms, classrooms, hotels and meeting rooms
A rolling jamb board can be installed on the side of the partition. When the door is extended, the plate slides out of the storage pocket. The main benefit is to hide the partition when it's collected.