General Details
Removable Wall
Removable wall is a flush movable wall system that is easy to operate for customers. The soundproof partition wall is suspended from the ceiling track, and no need for floor track. Removable wall partitions are widely used for restaurants, hotels, coffee rooms, exhibition centers, exhibition centers, colleges, art halls, auction centers, universities, karaoke rooms, offices, testing centers, bowling centers, airports, libraries, etc.
Features of Soundproof Removable Wall
Sound rating from 40dB to 50dB
No floor track – only overhead tracks
Maximum height of up to 9m
Allow flexible room layout
Individual panel neatly parked on one side or one niche
Segment a meeting room or conference facility
Allow rooms to be completely private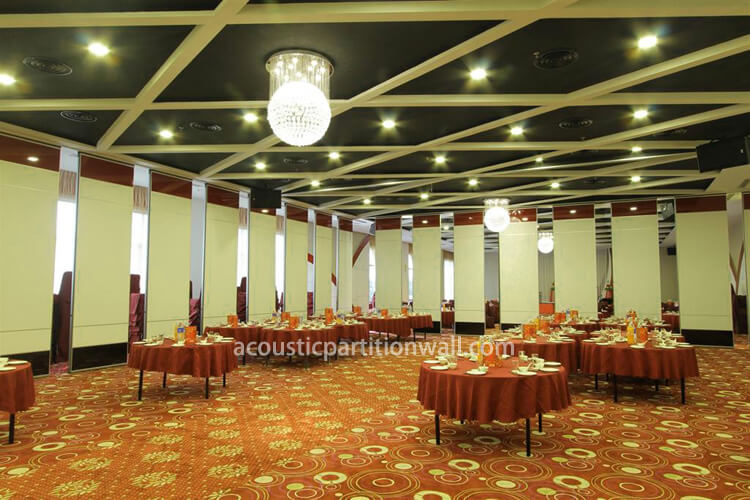 Double PVC seals are mounted around the removable soundproof wall to provide the highest level of acoustic integrity. More importantly, this fit can also achieve the desired acoustic integrity between two nearby rooms.
The acoustic structure includes multi-layer board at the top and bottom of the removable wall partition and the glass wool inside. The acoustic performance is up to 40 STC, and the fabric wrapped acoustic panel and perforated MDF panel can be used to reduce echo. The vinyl at all edges help to prolong life time and seal the noise.
These removable walls will be provided in an end-folded configuration to meet a variety of parking requirements and the first panel can be provided as a standard access door.
Removable Wall Finishes
The movable wall divider with door has aluminum edge profile, and panels are available for a variety of surface treatments including painted, polished veneer or various standard or high pressure laminate. Fire rated finish panel is also available.